In an interview with
Vanity Fair
,
Katie Holmes
talks about her family. I guess she is referring to
Tom Cruise
and Suri, although it isn't really clear from the quote. Apparently she has taken offense at some of the things written about her over the past few years."I do know what is being said in the press. This is my family, and I do care about them. The stories are not okay. It eats away at me. Some of the crap that's out there - it's really frustrating the amount of s**t that's out there!"
Well at least we know why she appears to have been losing weight. The stories are eating away at her, and slowly the pieces of paper and internet pages have been devouring her body. She should turn it into a diet book and she could make millions. Just 300 pages of negative words and every person who reads it would suddenly be sticks. No more diets that don't work or drinking shakes instead of meals. All you have to do is read negative words and the pounds just melt away.
Now, I'm no expert, but I don't think anything negative has been said about Suri. I mean there has been the whole debate about whether she is actually Tom's baby or the product of L. Ron Hubbard's frozen sperm or just the result of a relationship before Tom. But no one has actually ever said anything bad about Suri herself. Likewise about Katie. Oh, people might say she needs to run away quickly or that she is a Jennifer Aniston when it comes to the success of films, but nothing against her personally for actually being married to Tom or the fact that many people think she is doing it for money or something else.
Now as for her husband. I think he has kind of brought it upon himself. There isn't anything I or anyone else needs to write or say to make him look like an ass. He does an astounding job of that completely on his own.
One way Katie could clear up all the s**t that has been written would be for her to sit down with a real journalist who was allowed to ask as many questions about as many topics as they wanted. Put it all on tape so there are no misunderstandings and let her clear up any misconceptions she wants to correct. Until she does something like that, people are going to speculate and people are going to write about the information that is available.
So, stop whining, get off your carousel and do an interview. And no, Kneepads Magazine, Diane Sawyer and Larry King don't count. Either does Oprah.
Sexy Katie Holmes Picture Gallery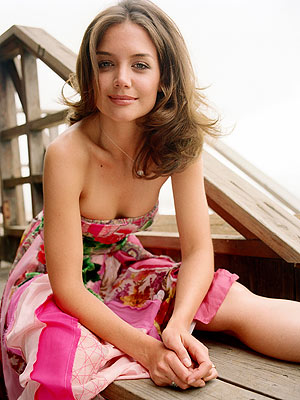 You have read this article Katie Holmes with the title Katie Holmes Says A Bad Word. You can bookmark this page URL http://diva713.blogspot.com/2008/05/katie-holmes-says-bad-word.html. Thanks!