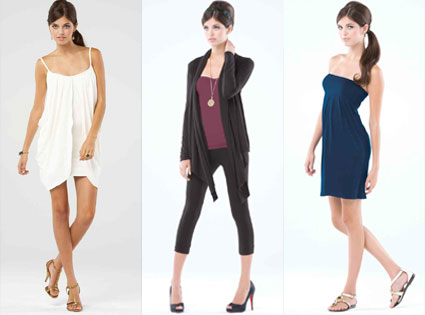 Although
Lauren Conrad
full line doesn't hit stores until early February, the Hills star recently unveiled a 10-piece
capsule collection
that features
versatile layering
separates and billowy
minidresses
that can be worn over skinny
jeans
or
leggings
.
Pieces range from $45 to $150 and are sold exclusively at shop
laurenconrad
.com. "It was great to be able to pick out fabrics and sketch out the designs," she tells mystyle. "It's such a cool feeling to know that people are actually buying my
clothes
now."Living up to her sweetheart image, Lauren named each garment for a friend or family member. "I tried to name the pieces after who they reminded me of," says the
fashion designer
, whose collection, according to the online store descriptions, includes the "
sexy and beautiful
"
Audrina dress
, above left, and the "classic" Lo dress, above right. (Something tells us the adjectives accompanying a Heidi dress would've been less than kind.)
The Katherine wrap, above center, was named after Lauren's mom. "She loves it," reports the reality TV star. "She kept trying to get one from me, but they just went into production and I hadn't gotten one yet." And when her mother tried to purchase her namesake piece online, she learned it was sold out. "She called me complaining about it and I was like, Mom, that's a good thing!"
(
mystyle.com
)
It's a sexier look than we're used to from Lauren Conrad - not that we're complaining of course!
You have read this article Lauren Conrad with the title Lauren Conrad Locks in Her Look for the Masses. You can bookmark this page URL http://diva713.blogspot.com/2008/07/lauren-conrad-locks-in-her-look-for.html. Thanks!