Carrie Underwood - eh I don't like this look.

Miley Cyrus: Cute and age appropriate. I don't like how her face looks though. Too much makeup.

Rihanna: Not to be mean but she looks bad. I don't like her hair and this dress is terrrible.

Alicia Keys: Another let down in my opinion. What is she carrying? a mini football? just kidding, I know it is some kind of clutch, whatever it is, it's not cute.

Fergie: Not too bad compared to some of the other folks but a bit boring.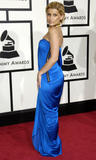 Nelly Furtado: I rarely like this cut of dress on anyone & this is no exception. Tacky jewelry too.
You have read this article celebrity story with the title Who Wore What ? 50th Annual Grammy Awards. You can bookmark this page URL http://diva713.blogspot.com/2008/02/who-wore-what-50th-annual-grammy-awards.html. Thanks!